Click on button to open a webpage with more information
Click INFO PDF to download a Customer Info Package
Welcome to the Kinexus Web Site
Celebrating Over 18 Years of Innovation and Exploration
Over 2000 laboratories in over 40 countries have benefited from our highly integrated platform of proteomics and bioinformatics services. Our unique services and products are convenient, cost-effective, insightful and enabling for identification and validation of biomarkers, drug targets and therapeutic compounds. Put our discovery engine to work for you.
KAM-1100 Series High Content Sandwich Antibody Microarrays
We will shortly be releasing our new KAM-1100 series microarrays that feature over 1100 different pan-specific antibodies, which will complement our KAM-900P microarray to permit screening with over 1700 different antibodies. The KAM-1100 series chips with their sandwich antibody microarray format will be powerful tools for interrogating signalling proteins for changes in sassexpression and phosphorylation and other covalent modifications as well as specific protein-protein and kinase-drug interactions. Contact us if you are interested in trying out these new antibody microarrays.
Direct Links to Free Kinexus Databases and Knowledgebases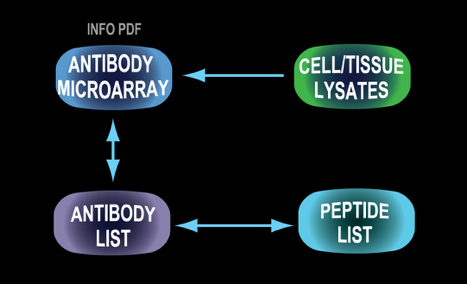 Download our Customer Information Packages
Download an overview presentation about the Kinexus proteomics services