Kinexus appreciates your comments and input. If you wish to get in touch with us, or are planning to visit our company, please feel free to do so by using one of the methods provided in this section. We look forward to hearing from you.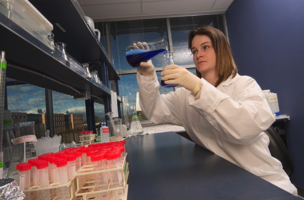 Kinexus Bioinformatics Corporation
8755 Ash Street, Suite 1
Vancouver, British Columbia,
Canada V6P 6T3
Our telephone operators are available from 8:00 am to 5:30 pm (PST).
We endeavor to return any phone and e-mail messages within a 16 hour period.
General Telephone:
604-323-2547
Toll Free in North America:
1-866-KINEXUS
(1-866-546-3987)
Sales & Marketing:
604-323-2547, ext 11
Corporate Development:
604-323-2547, ext 10
Where Kinexus is Located
Kinexus relocated to expanded lab and office facilities in the south Vancouver area in the Kent Industrial Park at Ash and Kent streets. We are one block west and one and a half blocks south of the new Skytrain rapid transit station at the intersection of S.W. Marine Drive and Cambie Street. With Skytrain, Kinexus is only about 10 minutes from the Vancouver International Airport and 15 minutes from downtown Vancouver.
Links
Listed below are several links to help you find travel, accomodation, and tourism attractions while in Vancouver. Click on each link to visit the respective sites.
Upcoming Conferences
Some of the upcoming conferences that Kinexus will be exhibiting at include the following:
Visit Kinexus at Exhibition Booth #3021 at the 2017 American Association for Cancer Research Meeting in Washington, DC, USA from April 1-5, 2017.
Presenting at the Bridging Discovery Research with Therapies Conference in Banff, Alberta, Canada from August 27-31, 2017.
Presenting at JHUPO Conference in Osaka, Japan from July 25-27, 2017.